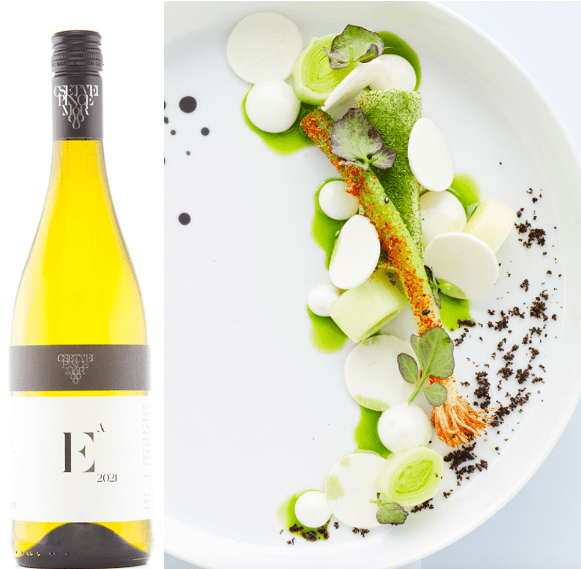 Csetvei Amphora Ezerjó at 2 Michelin Belgian Castor
Castor is situated in the Flemish spoken part of Belgium, 30 minutes' drive from Ghent, one hour from Brussels. Maarten Bouckaert chef uses local ingredients and he has a deep knowledge of when and what to use from the garden. Now, thanks to Roi des Rois import company, Csetvei Ezerjó 2020 aged in amphora is available at Castor by the glass. It is paired with a first dish of "Hamachi / Rooibos / Oyster / Vervain / Yuzu + caviar osietra".
https://www.roidesrois.be
The wine
Ezerjó is an indigenous grape variety grown almost exlusively in the tiny Mór wine region, where Krisztina Csetvei makes her wines with great passion. "Our Vénhegy Ezerjó (from our organic vineyard) was harvested at the end of September. After gentle pressing, the must was left to settle overnight in the cellar and then poured into Attila Légli's beautiful amphora. Spontaneous fermentation and maturation, with fine sweeping stirring. Fresh, fruity, a little creaminess in the mouth."
The restaurant
Michelin Guide comments about Castor: "Purity is the name of the game at the Castor. The contemporary choice of concrete, glass and wood endows this tasteful cube with a warm vibe. Stefanie embodies the restaurant's classy style, while Maarten Bouckaert adds a contemporary delicate spin to his classical background. The sauces are to die for! The food of a seasoned chef who has lost none of his youthful enthusiasm."
The restaurant offers two types of menus, Castor menu and Root, Herbs & Greens, both are available with 4,5, 6 or 7 courses, with or without wines. The most economical version is a 4 plate Root menu without wines (82 euro), while the most luxurious is a Castor menu of 7 plates with wines for 261 euro – with extra caviar and black truffle.
The website is only in Flemish and google translate is not much of a help, but do not be discouraged.
Booking in advance is a must.
Address: Kortrijkseweg 164, Beveren-Leie, 8791, Belgium
+32 56 19 01 21
info@cas-tor.be
Closed on Mondays and Tuesdays