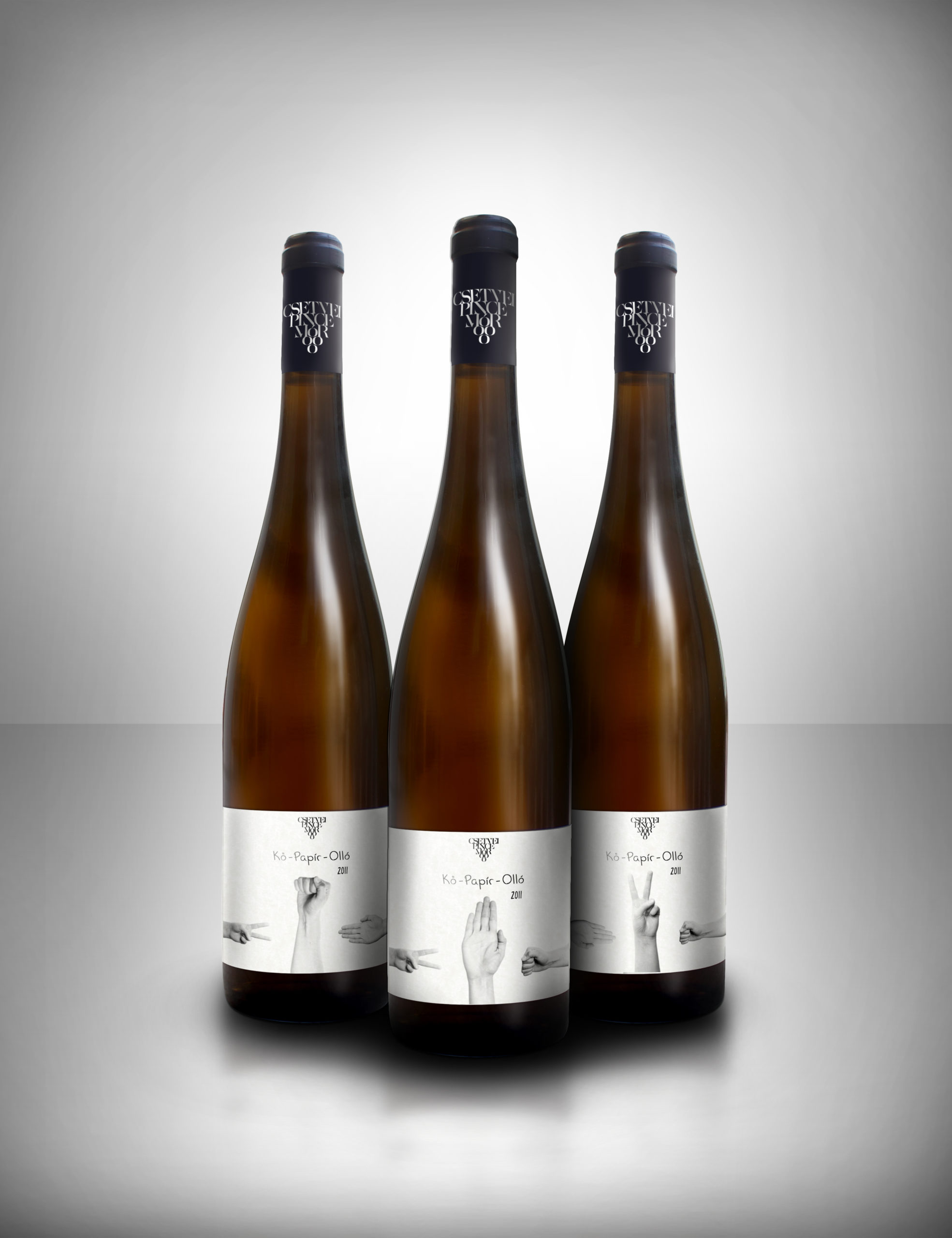 17 points from Tamlyn Currin on JancisRobinson.com
Csetvei Kő-Papír-Olló Olaszrizling 2017
'Olaszrizling' is the most widely planted white grape of Hungary. The name literally means Italian 'Italian Riesling', therefore people may assume that it has some genetic relation to Rhine Riesling, and since Olaszrizling is much less aromatic and complex than Rhine Riesling, it is often considered to be a "poor cousin". As Tamlyn Currin, wine writer of JancisRobinson.com pointed out tasting Krisztina Csetvei's wine from Somló, it is far from being a pitiful relative.
Scissors-paper-stone from volcanic Somló
In the name of Csetvei Kő-Papír-Olló Olaszrizling 2017 'Kő-Papír-Olló' stands for scissors-paper-stone game. While 'Scissors' and 'Paper' come from Mór wine region, 'Rock' comes from the volcanic Somló vineyard of the estate. Gently pressed, 50% tank fermentation and maturation and 50% wooden-barrel fermentation and maturation for three months. Tamlyn Currin was impressed by the expression of the variety and gave the wine 17 points!
"Ripe citrus, satsuma. Tiny bit of burnt hazelnut. Something very very slightly dairy, but more like smoked Greek yogurtthan cream. Candied lemon peel. Nutmeg. White pepper. Ground cumin. Almost a little curried, golden curried, in its flavours. Cinnamon. Melktert. Beautiful acidity scythes into the richness; the richness curves into the mouth; the wine spirals slowly back into itself. Circles and ripples and mesmerisingly helical. A striking Olasz. Puts paid to the prejudice that this variety is the poor cousin of Riesling. It's got to be understood as something else entirely."
Csetvei wines are available in several countries:
Belgium (Roi de Rois), Italy (Vino Ungherese), Poland (Lutomski Vino), Slovakia (VinoBro Weisz), Switzerland (Boár Wines ), UK (Malux Hungarian Wine and Spirit), USA (Rooted Selections)
Some serious and some less serious facts about Olaszrizling
– Olaszrizling was and is mistaken for Rhine Riesling, though it is a completely different grape.
– Its synonyms include the most common Welschriesling (Austria, Germany), Graševina in Croatia, Laški Rizling in Slovenia.
– It is quite likely to originate from the Danube basin, though there are numerous other hypotheses.
– A recent research might prove that yes, Olaszrizling originates in Italy.
– GROW is a new initiative – a wine contest of the variety. The name comes from the most common synonyms: GRaševina, Olaszrizling and Welschriesling.
– In Hungary there was a smaller scale movement to rename the variety to avoid confusion. The attempt failed, Mandola, Oriz or Nemes did not win.